Lightweight & flexible for easy storage.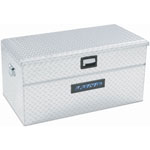 Locking T-handles offer easy access to box contents and a tie-down anchor for securing truck bed cargo, while weather resistant gaskets keep out dirt and moisture keeping valuables safe and secure. 36".
With auto shut-off. Two handles for easy use. Yellow poly.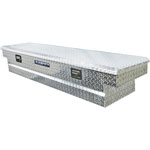 16" wide economy line. Made of .056 diamond plate aluminum. Heavy duty double latch paddle handles. Bright finish. 60".
Fits most full-size truck beds. Made of 0.056 diamond-plate aluminum. Mounting hardware and tray not included. Heavy-duty double-latch paddle handle to help secure valuables. 16" wide. Bright finish. 70".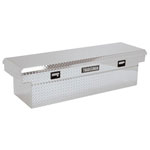 Gas cylinders allow easy access. Optional double latch system or push button design. Weatherproof gasket prevents leakage. .060" Aluminum resists rust. Paints are electrostatically applied to maximize resistance to abrasion and corrosion. Ethafoam mounting strips protect truck's finish. 71".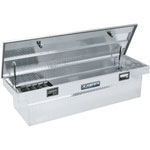 Locking storage for most full size truck beds. Aluminum with a bright finish. Deep for extra storage. Single lid with durable paddle handles for easy access. 71".
Low profile, highly durable, softbed tonneau cover.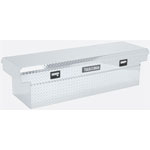 Provides storage under the toolbox. Highly durable. with a single lid design. Tarnish and corrosion resistant, it features a unique bright aluminum diamond plated finish.