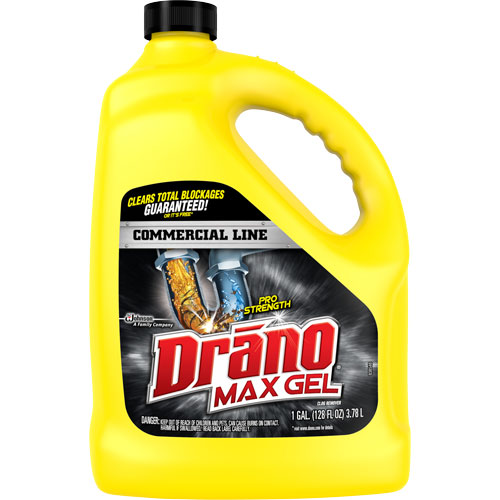 Formulated thick to dissolve the toughest clogs fast. Pours through water straight to the clog. Has an ingredient to protect pipes from corrosion. Safe for plastic, PVC, metal pipes, garbage disposals and septic systems. Won't harm pipes when used overnight. Contains no phosphorus. 1 gal.

Additional Information
Clean out your pipes so you can get back to normal faster with Drano Max Gel, available in 128 fl oz bottles. It is safe to use with all pipes, including plastic, PVC, metal, garbage disposals and septic systems. The Drano clog remover is more than 50 percent thicker compared to other gels and will cling to clogs longer. You can pour it even with standing water, and it can return your system to a free-flowing state quickly. The pipe clog remover works best when removing hair, soap scum and other gunky blockages. It won't damage your pipes if left sitting overnight and contains no phosphorus.