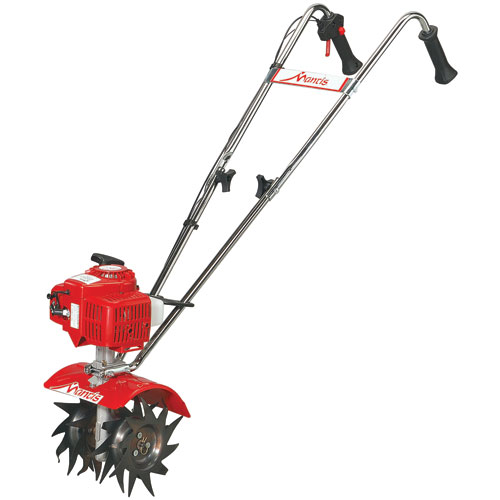 The commercial grade 2-cycle engine is powerful, reliable and utilizes push-button priming for easier starting. The compact 9 inch width allows the tiller to get in tight spaces and be stored where larger tillers cannot go. The patented reversible tines can be used to till down 10 inches or shallow cultivate the top 2 to 3 inches of soil. 5 Year consumer warranty on entire tiller including engine, plus a lifetime warranty on tines against breakage.

Additional Information
You'll be ready to garden all year round with the Mantis 7225-12-02 Two-Cycle Gas-Powered Tiller/Cultivator. With a powerful engine, durable tines, and compact profile, the Mantis Tiller/Cultivator is ideal for creating new gardens, tilling in narrow rows and raised beds, or along fences. With the help of the included border-edger accessory and convenient kickstand, the Mantis Tiller/Cultivator will help you maintain a bountiful garden and lawn for years to come.