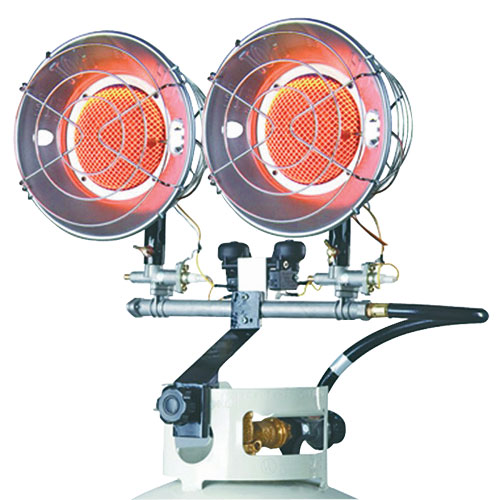 Double tank top heater or use with propane gas featuring hi-med-low regulator, two tip-over safety shut-offs, soft nose P.O.L. and polished chrome reflector. 1000-30000 BTU per hour. Operate one or two burners for multiple heat output. Mounts on 20 lb. propane cylinder. No toll needed, hand wheel installation. All components replaceable.

Additional Information
This 10,000-30,000 BTU Liquid Propane Tank Top heater is perfect for any outoor heating application. Quality chrome and stainless steel components make this reliable heat on the go. It has an adjustable high-medium-low regulator and soft nose P.O.L. Its easy to use adjustable swivel head design allows you to direct heat precisely where you need it. Higher grade mesh means lasting durability and its shut-off feature brings you peace of mind.