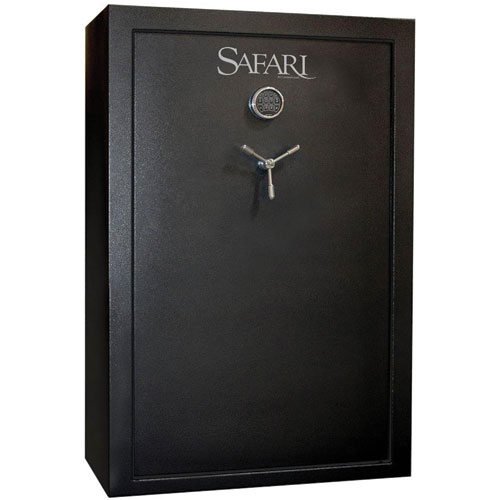 Safari 5940 safe comes standard with a factory installed door panel organizer, a 30 minute fire rating and a massive up to 64-gun rack.Electronic lockSteel constructionComposite door1.25 in. steel locking boltsAdjustable shelving can be raised, lowered or removedUp to 64 firearm rackDoor organizer panelUpholstered inside wallsLined with 5/8 type x fireboardPre-drilled with 4 holes for bolting to floorHammertone black paint finishExterior dimensions: 59 in. H x 40 in. W x 26 in. D (depth is without handle)Chrome plated accentsLuxury 3 point handle30 minute fire protectionExpandable fire seal helps keep out smoke and heat1 year warranty

Additional Information
The Safari Series offers a cost conscious solution for storing your valuables. Available in a wide range of sizes, the Safari Series is sure to meet your specific needs at an affordable price. Finished with black hammertone paint for a stylish look in any home.