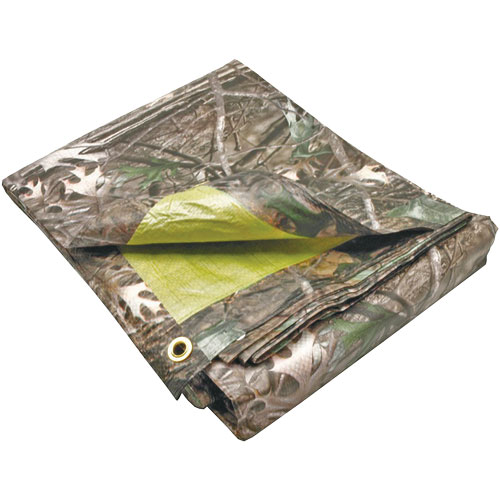 Lightweight and durable; 190 gr/72" x 1m fabric weight. UV protectant coating. Water and mildew resistant. All weather protection. Brass plated grommets on all 4 corners. 6' x 8'.

Additional Information
These Superior grade, All-Purpose Tarps by Lost Woods are an absolute must for many types of outdoor uses. With a white yarn weave woven vertically and horizontally, a khaki colored backside, poly roping hem and brass plated rustproof grommets, these tarps will provide all weather protection. Because they have a UV protected coating and are water and mildew resistant you can trust these to provide maximum protection for any type of coverage. Ideal for use as an ATV, car and boat cover and because of the highly detailed design with warm earth tones and green leaf contrasts of the Tree Camouflage pattern it works great as a cover for all your hunting equipment and even makes a unique ground blind. Other uses could include uses as a picnic mat, lumber cover, haystack cover and the list goes on and on. Only your imagination will limit the amount of uses for these tarps. The Lost Woods Tree Camouflage All-Purpose tarps will keep you and your equipment dry and well hidden Finished Size: 6' x 8'.