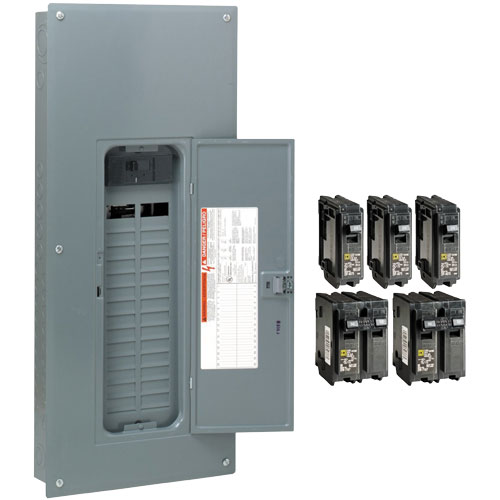 Includes a fully distributed neutral bar, allowing for the installation of Homeline plug-on neutral combination arc fault breakers on any space. Includes (3) HOM120 Homeline 20-Amp single-pole circuit breakers, (2) HOM230 Homeline 30-Amp double-pole circuit breakers and a combination flush/surface cover.

Additional Information
The Square D by Schneider Electric Homeline Value Pack 200-Amp 30-Space 60-Circuit Indoor Convertible Main Breaker Load Center for Plug-on Neutral breakers includes the cover and a selection of breakers. It is UL listed for residential and commercial power distribution. This load center is built with a plated, aluminum bus bar that is tested and listed only for Homeline circuit breakers. Homeline load centers are designed for the value-minded contractors, remodelers, builders and homeowners. Homeline load centers are engineered for fast installation and wire savings.