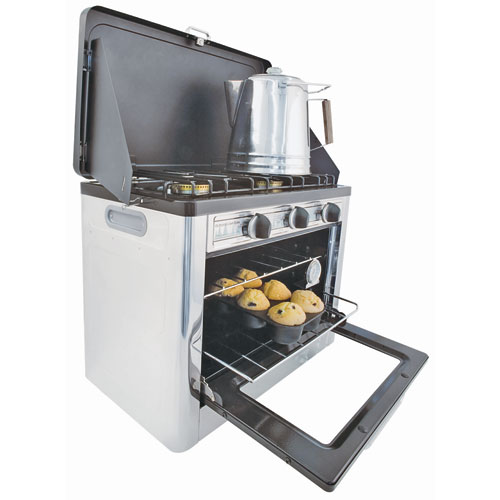 Matchless igniter burners. Stainless steel construction. Nonstick enamel cooking surface. 2 oven racks. Powered by a disposable 1 lb. propane tank. Can be adapted to use a bulk tank.

Additional Information
Featuring two 7,500 BTU brass burners and a 3,000 BTU oven burner, the versatile Outdoor Camp Oven unlocks all the cooking capabilities of a home oven and range. The unit's heat-efficient, insulated oven box heats up to 400_ F and has plenty of room to fit a 9 x 13 pan in it, you can even bake a loaf of fresh bread inside. A see-through glass window and built-in temperature gauge help you hone your cooking skills. Durable stainless steel construction helps fend off corrosion and nonstick enamel makes cleanup easy.