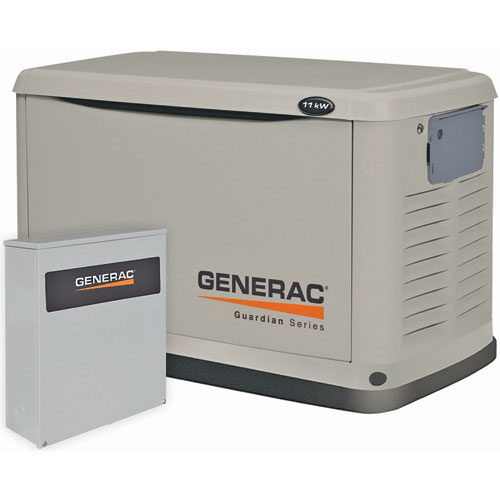 Unit runs on natural gas or liquid propane and features hands-free operation with no fueling, no manual start and no extension cords. Clean, smooth True Power Technology provides safe operation of sensitive electronics. Includes automatic 200-amp Smart Transfer Switch (NEMA 1, indoor rated only). 10,000 rated watts and this model is UL, CUL and EPA compliant for safety. Comes with a 2-year limited warranty and is CARB Compliant.

Additional Information
Features a 200-amp Smart Transfer Switch for fast-acting, automatic protection from power loss. Ideal for home use, this generator powers up automatically and within seconds of a power outage without the need for any manual startup. Easy installation, pre-wired and packaged with virtually everything necessary to connect to your home's electrical system and existing liquid propane or natural gas fuel supply. After all the liquid propane, natural gas or electrical connections are made, it is ready to run 24/7 and requires absolutely no manual operation, no fueling and no extension cords. The generator features the 530cc Generac OHVI engine, an exclusive air-cooled generator engine with a high-performance design that can accommodate large electrical loads. The engine requires routine maintenance only once every 2-years or after 200-hours of use. Meets CARB requirements. It requires a Group 26R 12-volt minimum 525 CCA battery (sold separately). Comes with a 200-Amp NEMA 1 automatic transfer switch with 30-foot, 5-foot and 2-foot pre-wired conduits; outdoor connection box; 1-foot flexible fuel line pigtail; composite mounting pad; installation guide and owner's manual. 48" x 25" x 29", weighs 407-pounds. 2-year limited warranty.