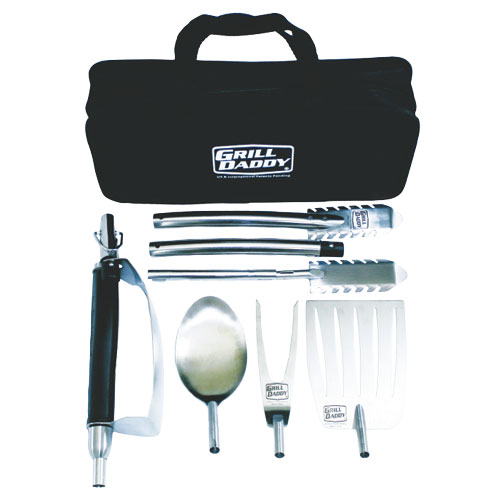 Professional grade stainless steel collapsing tongs with 2 quick connect interchangeable attachments comes with handy carrying case. Heat shield hand guard protects against flare ups and searing campfire heat.

Additional Information
One of the best parts of any camping trip is cooking out in the great outdoors, but it can be a challenge to easily pack and store the grill tools you need to make meal preparation as easy as possible. That's where the Grill Daddy 6 in 1 BBQ Grill Tool Set comes in. When you're camping- whether in an RV or tent or on a boat, space is at a premium. Because the pieces break apart, the storage case is compact. With this set it is easy to travel with quality grilling tools without having to sacrifice too much storage space. Each piece is made from durable, high quality stainless steel. The pieces are sturdy and easy to work with. There is one handle that can quickly and easily be combined with an attachment and/or a handle extension to assemble six different full-size grilling tools in just a few seconds. Attachments are: Spoon, Spatula, Fork, Tong Attachment, Tong Jaw and Handle Extension. The Grilling tools you can assemble using these attachemtns will meet any outdoor cooking need you have.