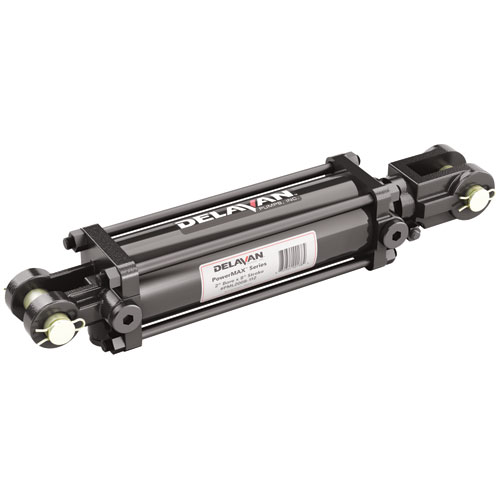 Hard chrome plated shaft. Tube is precision finished skive and burnished heavy wall steel tubing. Piston is made of ductile iron, providing a malleable bearing surface.

Additional Information
4" x 8" Delavan hydraulic cylinder without stop built tough enough to stand up to the roughest conditions. Pins and retainers: high tensile steel, zinc plated to prevent corrosion, comes with hair pin retainers. Ports: double ported NPTF for greater flexibility of assembly, unless otherwise stated, cylinders assembled with ports inline. Piston nut: heavy duty automation grade self locking piston nut holds piston in place under high cycle loading. Piston: ductile iron, precision machined providing a malleable bearing surface for extended cylinder life. Piston seal: The PSP - A or URG design traps oil between the sealing lips and provides better (lower) running friction and easier breakaway friction (stroke start-up). It's rectangular shape makes it very resistant to rolling or twisting and also very resistant to extrusion(seal blow out) due to pressure spikes. Tie - rods: high tensile steel to prevent failure under high pressure. Cylinder shaft: high strength, hard chrome plated shaft provides extended cylinder life in harsh applications. Tube: precision finished skive and burnished heavy wall steel tubing for extended seal and cylinder life. Tube seal: 90 durometer o - ring with anti - extrusion back-up washer to prevent leakage under high pressure and cycle loading. Rod seal: Premium Double Lip Polyurethane BS profile using a double lip design for leak - free performance throughout the pressure range and longer life expectancy. Rod cap and clevis cap: ductile iron comes with drilled oil passages, offering increased bearing surface for high shock and side load applications. Rod wiper: Polyurethane AN or D Style provides a tough / hard material to remove contaminants from shaft surface. Threaded shaft: (on ASAE cylinders) to accept optional mechanical stroke control (not applicable to 5" bore cylinders). Rod clevis: ductile iron comes with 360° thread contact area and positive set screw locking device able to withstand continuous high load without wear or fracture. All cylinders are 100% hydraulically tested up to two times working pressure.