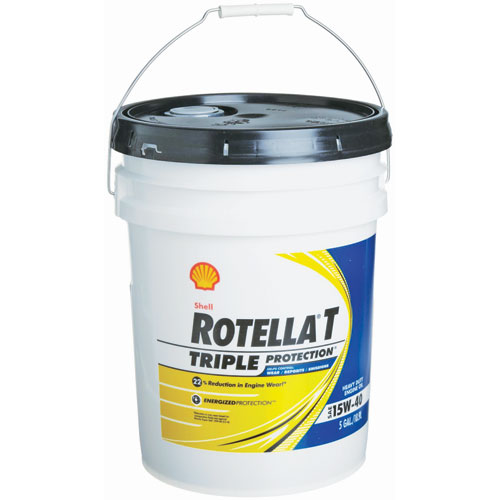 Conventional motor oil compatible with most vehicles, Motor oil weight: SAE 15W-40, Industry-tested for up to 50% less engine wear, Enhanced engine cleanliness and viscosity control, Designed to control piston deposits in late model engines. 5 gal.

Additional Information
Providses triple action to help control wear, deposits and emissions to continuously adapt to the needs of your engine for protection in on- and off- highway applications. It meets or exceeds API CJ-4 requirements, and is designed to provide extra performance. Shell Rotella T Triple Protection performs well in both older and new engines. Triple Protection technology builds on the traditional strengths of wear protection and engine cleanliness in Shell Rotella T, but it also protects diesel particulate filters (DPFs) against buildup of harmful deposits. And it provides outstanding viscosity control with exceptional product durability. This technology has been proven in over 50 million miles of durability testing. 5 gal.