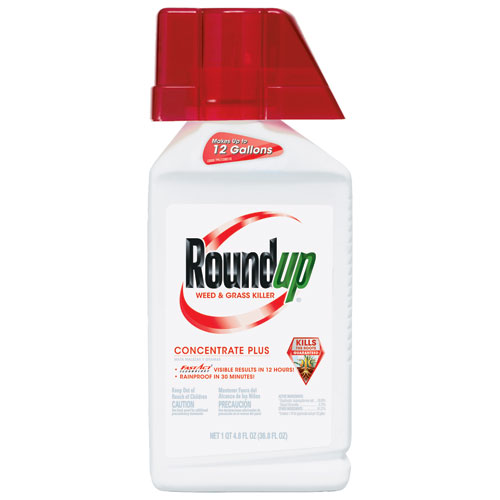 Contains FastAct technology. For use in tank sprayer. Visible results in 12 hours. Rainproof in 30 minutes. Kills all types of weeds and grasses. 36.8 fl. oz.

Additional Information
The Roundup brand has been trusted to kill all types of weeds. Kill to the root. Guaranteed. From Ready-To-Use formulas to Concentrates, to Weed Prevention, Roundup brands have it. So feel confident and put the power of the Roundup brand to work for you. Fastest working Roundup Concentrate. One quart makes up to 10 gallons. Rainproof in 30 minutes. Use a Roundup tank sprayer to spray the weeds you want to kill until thoroughly wet. If desirable plant is accidentally sprayed, rinse off immediately with water. Apply when weeds are actively growing. For best results, apply during warm, sunny weather (above 60-degrees F). Spray when air is calm to prevent drift to desirable plants. Weeds usually begin to wilt within two to four days and dead within one to two weeks. Use in and around fences, trees, driveways, and flower beds. May also be used for lawn renovation and vegetable garden bed preparation. All ornamental flowers, trees and shrubs may be planted one day after application. Lawn grasses, vegetables, herbs and fruits may be planted three days after application. FastAct Technology formula starts working immediately, with visible results in 24 hours. Kills weeds to the root so they don't come back. Ideal for larger projects.