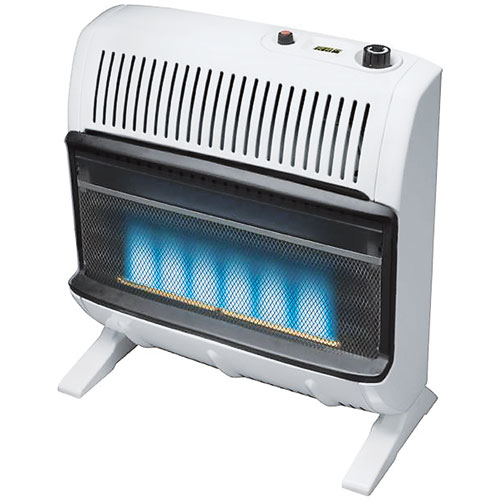 30,000 BTU per hour output. Blue flame burner for even, convection heat. Oxygen depletion sensor for safety indoors. Thermostat for automatic temperature control. Quiet integrated blower for gentle circulation of heated air.

Additional Information
This space heater comes in both propane and natural gas models and features an oxygen depletion sensor for safe use indoors. It provides 30,000 BTUs of heat per hour, just right for a small area indoors, or even in the garage outside. A quiet, integrated blower provides gentle circulation of heated air. Temperature is automatically controlled by a built-in thermostat. The Blue Flame Heater is the perfect choice for supplemental heat to take the chill out of a small space and provide warmth for your comfort in the work area, additions, sunrooms, emergency power outages and more. This heater is a natural gas unit.