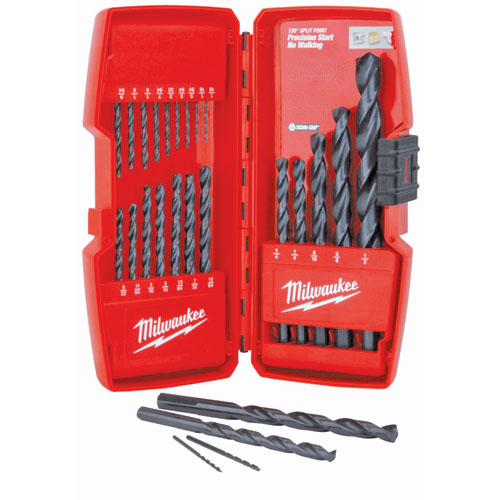 Jobber Length Type; Black Oxide Finish; 1/16 Inch Min. Drill Size; 1/2 Inch Max. Drill Size; 1/16 Min. Drill Size - Fractional; 1/2 Max. Drill Size - Fractional; Reduced Shank Type; Spilt Point Construction; Parabolic Flute Type; 135 Point Angle.

Additional Information
21 Piece Black Oxide Drill Bit SetMilwaukee thunderbolt black oxide jobber length drill bits are designed for extreme durability and long life. The thunderbolt web features a thicker core than a standard drill bit. which provides ultimate strength and protects against side-load breakage. A specially designed parabolic flute form clears chips and debris fast to keep the bit cool. A precision start. 135 split point tip starts on contact to keep the bit from walking for fast accurate holes. Excellent for drilling on curved surfaces. requires less effort to drill and is highly recommended for use with portable drills. The 3-flat secure-grip shank won t slip in the drill chuck. Reduced shank diameter for use in 3/8" chucks.Features:3/8" Shank21 PieceBlack Oxide Construction.