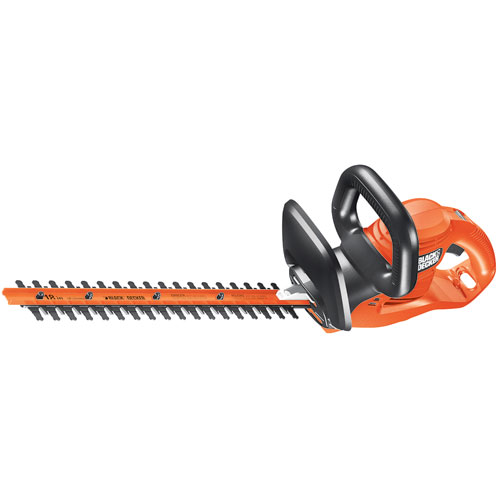 Electric hedge trimmer with 2.6A, 4.9 lbs with 3 sided comfort handle. Lock on button for continuous running, lock off button to prevent accidental starting. Cord retention to prevent trimmer from coming unplugged. Pre hardened, rust resistant steel blades to stay sharp longer. 18".

Additional Information
A slim, easy-to-handle tool. Cuts through branches up to 5/8 inches in diameter quickly and easily, leaving you with neatly trimmed hedges and shrubs. Featuring a 3.0 Amp motor that delivers 3,400 strokes per minute and dual-action blades crafted from pre-hardened, rust-resistant steel, this dependable trimmer also works to minimize vibration for a more comfortable operator experience. This tools also features a three-sided comfort handle and offers a lock-on switch that means you don't have to hold down a trigger during longer jobs, a lock-off switch that prevents accidental startups, and a cord-retention system that ensures your extension cord doesn't come unplugged while you're working. As an added bonus, electric power means that you never have to worry about sticky pull starts, nasty fumes, or recharging batteries. Weighs 4.9 pounds, and it is backed by a 2-year warranty. 18".