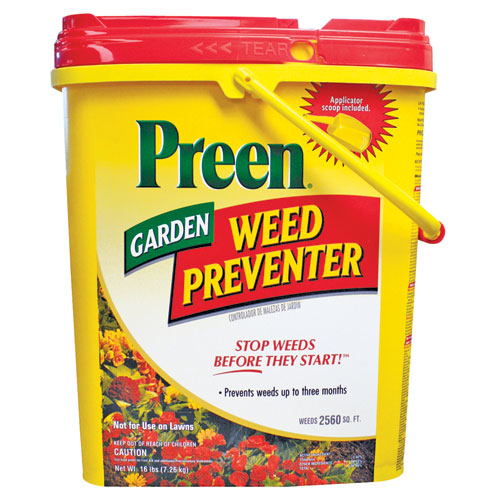 Provides 2,560 sq. ft. of coverage. Prevents new weeds. Prevents summer and winter annual weeds in flower and vegetable beds and around trees and shrubs for up to 3 months. Plants grow larger and stronger without weed competition. Creates chemical barrier in soil that prevents cell division in developing weeds.

Additional Information
Preen Weed Preventer stops weeds from germinating in flower and vegetable gardens, in ground covers and around trees and shrubs. Although Preen will not kill existing weeds, it will prevent new weeds from sprouting; eliminating the need for difficult and time-consuming hand-weeding. Without weeds, your valuable plants can grow larger and stronger. Apply Preen Garden Weed Preventer anytime during the growing season around established plants and transplants. Preen should not be used on flower seeds. It can be used after flowering plants have germinated and are 2-3 inches tall. Preen may also be incorporated into the soil when seeding vegetables or applied after mulching beds. By applying Preen as early as possible, you can eliminate the need for hand-weeding. Rain does not wash this product out of the soil. To keep beds weed-free all season long, reapply Preen weed preventer every 9 - 12 weeks.