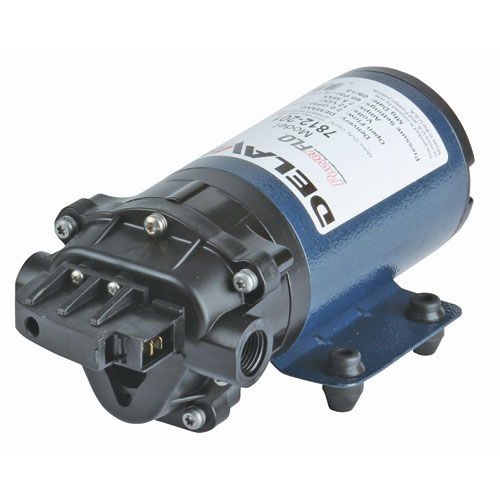 3-chamber Diaphragm Demand pump with Viton valves, Santoprene diaphragm and a 12V DC electric motor. Max. flow 2.0 GPM; Max. pressure 60 psi; Max. draw 5.7A; Max. fluid temperature 140_ F. 3/8" FNPT ports. Housings: polypropylene. Stainless steel fasteners.

Additional Information
The Delavan 7812-201 Powerflo is a 3-chamber diaphragm demand pump with Viton valves, Santoprene diaphragm, a 12V DC electric motor and a 2-pin molded connector. The 12V DC motor is a permanent magnet type, totally enclosed and non-ventilated. The motor surface should not exceed 150_ F. The 6 lb. pump is a self-priming, 3-chamber positive displacement diaphragm pump capable of being run dry. It has priming capabilities of 14 feet. Note: It is recommended to use the AA122-1/2-PP Poly Line Strainer to help eliminate contaminates from running through your Demand or Bypass Pump. Demand pumps require a balanced flow; too small of a nozzle can restrict the flow resulting in your Demand pump shutting off.